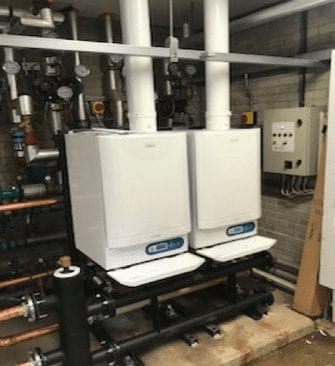 Our commercial heating engineers were given an 'A*' for the efforts when it came to fixing the heating system for Brownlow Fold Primary School in Manchester.
Brownlow Fold first contacted the commercial heating team after having issues with their boiler. The unit was cutting in and out, and leaving the school cold, and without hot water some days. The school needed advice on the best way forward to supply and install a new commercial boiler that would be easy to use, had a long warranty and guarantee, and was more cost effective to run.
Our engineers decided to install twin Ideal Evo max boilers on a new frame and rigging system to ensure the school got the heating and hot water requirement whenever it was needed. The existing boiler was stripped down and removed, and the new boiler was then built in place and connected up. All the work was completed during the term time, as to cause as little disruption as possible and took just 3 days. This meant there was enough run and commission time on the system to make sure the children and teaches walked into a nice warm school on there return.
Caretaker, Rick- "Fantastic job and great bunch of guys to work with"